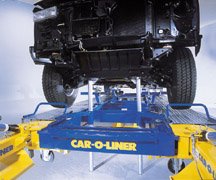 Frame and Unibody

O'Connell's Body Works (OBW) has the most advanced frame and unibody repair system available. Frame and Unibody repairs are performed on a Car-O-Liner Tower Frame/Unibody System.


Measuring is performed before and after frame and unibody repairs with Car-O-Liner's Computer-based Laser Measuring System, Car-O-Soft Vision. here are over 12,000 measured vehicles in the database, which is updated frequently. This ensures that frame straigtening and repairs are completed to vehicle manufacturer specifications.
Welders
The following welders allows OBW to duplicate the original factory spot welds on your vehicle:
Car-O-Liner CR-500 medium frequency spotwelder

Snap-on MM 140SL Mig Welder

Snap-on MM 250SL Mig welder

Snap-on Aluminum Welder

CR-500 Welder

MM250SL Welder

MM140SL Welder
Paint Refinishing
Only experienced refinishing technicians trained in precision color matching will work on your vehicle. O'Connells Body Works has state of the art refinishing equipment and materials including a state-of-the-art AFC Quad Downdraft Paint Booth and AFC Paint Storage room.

We use both the premier Standox Paint and PPG Paint Systems. Standox is the only paint approved for use by all auto manufacters. Upon completion of the final spray coat, the paint is baked on the vehicle to paint suppliers specifications to insure a durable long
lasting finish.

Because of the quality of materials we use in the refinishing process we offer a lifetime warranty on paint materials and workmanship. (see shop for details)
Recommendations & Precautions
Within the first 30 days it is all right to wash your vehicle, but it is recommended
that you wash by hand with cool water. You can use very mild car wash solution
with a soft cloth or sponge. Do not go to a commercial car wash. Any stiff brushes
or sponges could damage the newly finished surface. Caution, dry wiping your
vehicle can scratch the finish. We recommend you wash the vehicle in the
shade and always use clean water. Wait 90 days before waxing or polishing
your vehicle.
VISA and MASTERCARD Welcome


Hours of Operation
M-F 8:30am - 5:30pm
Sat 8AM - Noon, Closed Sun
1171 Main Street Rear
Walpole, MA 02081
Tel: 508-660-2528
Fax: 508-660-6624